This is how my buffet started out.  When we bought it two summers ago, it was in rough shape but the price was so right.......$30.00.  We were told it was from the 1890's.  The previous owners bought it at an antique shop.
We have the doors for it but they were warped too badly to reattach without more effort than we wanted to put into it.  I wanted to be able to use this right away for my kids game storage.  So my husband (the brawn of the operation) naile dit back together fand made it structurally sound and we moved it right in.
Then it sat there for two years looking ugly, while I waited to get off my lazy bum for inspiration to strike.
Well about two month ago I decided to make curtains for it to at least cover up the hole and so you couldn't see the games anymore.  Well it would have been 6 more months if I had decided to sew them, so I got out my glue gun and went to town with a huge piece of material that I picked up at the thrift store (I got over 10 yards of fabric and it's nice home decor stuff for $7.99).
It then looked like this.
   Which was an improvement, but it still lacked something. 
Well ever since we bought it I HATED those knobs!!!!!  They are so plain and bright and that silver screw just SCREAMS at you.  The minute it came into the house I told my husband that those knobs had to go!!  However I was unsure what I wanted to replace them with.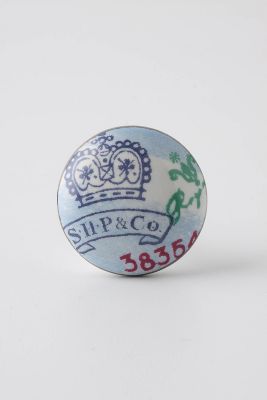 I really like these from Anthropologie.
But for $12.00 per knob and I need 10...ummm no.
These are nice too.only $8.00 per knob.  But I don't love them. For $80.00 I HAVE to love them.
These are $6.00, but still not in love.
All knobs were from Anthropologie.
So I decided rather than spend that much money to replace something that didn't really need to be replaced, I would find a way to make me hate them less make them work.  So I decided to paint them.  Well this was my first attempt.  It is  supposed to be a fleur de lis .  It came out horibly wrong and I am saving this pic. for Susan at Between Naps on  the Porch's bloopers party.
So I scraped that idea and decided to try something freehand that was a little more abstract and free that could hide my miserable painting abilities.
This is what I came up with!
Whenever acrylic paint goes on clearance I pick it up.  I chose four colors that were in the curtain material from my paint stash.  The outer green is called Grass Green and was .25 cents.  The gold is Inca Gold Metallic and was .25 cents.  The mauve color is a mixture of Rose Pink .50 cents and Burgundy Rose .10 cents.  To paint the horrible, ugly, sore thumb of a screw, I mixed the green with the gold.  This whole project used very very little paint.
Here are some more pictures.  I just love it now!!!
Please ignore the SHARPIE that nobody who lives at our house did and mysteriously ended up there!!!
After finishing the knobs the curtain needed something more.   So I went through my stash and found some lightweight velvet from the thrift store for $1.99 and some trim that was .50 cents for three yards and got out......my glue gun of  course and added some to the bottom of the curtain.
Please ignore the pile of crap kids stuff on the bookcase.
Well now I need your help, I am undecided what to do next with this piece.  Should I leave it as is or paint it and if i paint it what color should I do?  The rest of the furniture is wood and my curtains are a sage green just like the leaves on this curtain.  The walls are white.
I'm linking up to:
Transformation Thursday at the Shabby Chic Cottage
Vintage Thingies Thursday at the Colorado Lady
Thrifty Thursday at Tales from Bloggeritaville